INTERVIEW POST!!! with..... Juley Le of Swank Heights!!
Juley Le, is a style icon. period. her style is impecable and to be admired by all and enjoy F.K.M.W.'s interview with her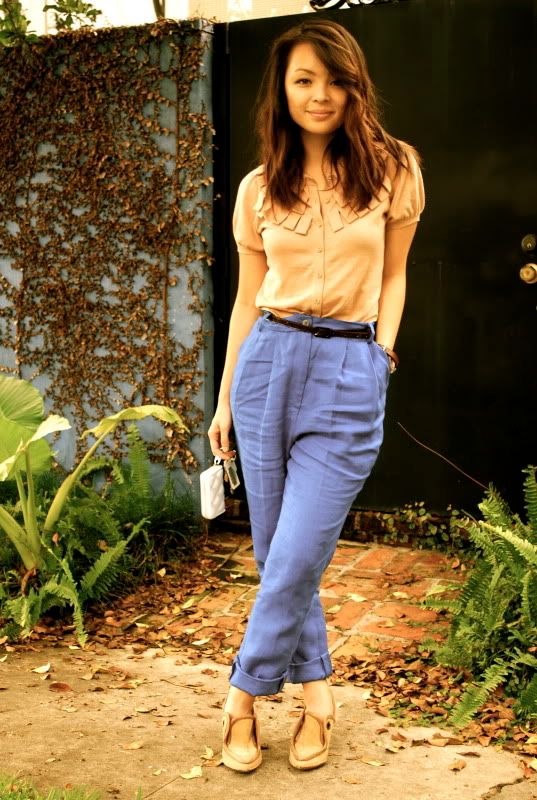 Where are you from and describe the fashion scene?
I'm from New Orleans, Louisiana. The style here can be very easy and charming. Older society members wear typical southern attire - men in polos and khakis and women in feminine skirts. Lately, I've seen a lot of the younger kids get into the grungy, 90s hipster trend. It's not quite as diverse and adventurous as New York City but I like to think that we're holding our own given our lack of resources.

Favorite food and color?

I love simply prepared, fresh dishes. The color blue is almost always on my radar.

What is your style inspiration?

Anyone who can own their look has my vote.

When you first look at your closet/wardobe what is the first thing that comes to mind?

Consistency! I keep with structured jackets and flowy tops with occasional trendy pieces.

Whats your favorite item in your closet?

Opening Ceremony khaki high-waist shorts, Alexander McQueen khaki booties, and a Thuy New York sheer striped tank

Where is your favorite place to shop?

Zara always has quality pieces. I never walk out empty handed!

Where do you find the best bargins?

Neiman Marcus Last Call

Whats your numero uno shopping tip?

Shop alone so that you can take your time and always think about investment pieces

How did you first get into blogging?

I started out on Xanga and slowly weened myself onto fashion blogs a year ago.

Has anyone ever recognized you on the street?

Yes. I am usually too surprised to respond in a decent manner. lol

Who's your favorite blogger?

Jane - Sea of Shoes

Chanel heels or a Chanel purse?

Purse

Fashionable pieces i love include navy blazers and rings. Whats your favorite fashionble piece?

Sheer shirts and anything cream or gray

Why did you name your blog Swank Heights?

I wanted something catchy but all encompassing of my passion for food, fashion, and the lifestyle I want to lead.

Whats your passion besides fashion?

Improving the education system, eating great food, making my little life extraordinary =)

Any last words of wisdom?

To thy own self be true.
Swank Heights